KEPPEL CORPORATION LIMITED
SGX:

BN4
Keppel Corporation - Limited Impact From New Property Measures
Singapore residential curbs have limited impact on Keppel.
Singapore residential exposure accounts for < 10% of RNAV.
Maintain BUY; Target Price reduced to S$9.10.
Limited impact from new property measures
Reiterate BUY; Target Price reduced to S$9.10, as we widened the RNAV discount to 25% (previously 10%). This is in line with peer CapitaLand, reflecting the recent Singapore residential curbs.
The property measures should have limited impact on Keppel, whose Singapore residential exposure forms only < 10% of RNAV.
We continue to favour Keppel as a safer proxy to ride the O&M recovery, given its multi-pronged businesses.
Keppel's decent dividend yield of 3% (based on 40% payout ratio) also lends support to its share price.
Where We Differ: Positive on Tianjin Eco-City.
Keppel's huge historical land bank of ~6.5m sqm is held at a low cost. Half of the land bank is currently under development, progressively realising its RNAV over the next 3-5 years. Out of its remaining undeveloped land bank, 40% is for development projects in Tianjin Eco-city, which Keppel acquired in 2009 at less than one-tenth of the current land price which has yet to be reflected in our RNAV.
In addition, the ongoing portfolio rebalancing exercise will unlock values of completed projects.
O&M on the cusp of recovery.
O&M's contract wins in 2017 bucked the declining trend as the division clinched S$1.2bn worth of new orders, which doubled over 2016. The momentum should continue into 2018 with S$3bn new orders assumed. YTD, Keppel has won ~S$840m new contracts. io. New orders are expected to come from gas and FPSO projects buoyed by sustained oil prices above US$70/bbl.
The recovery in new orders towards our assumption could prompt further re-rating of the O&M business.

Valuation
Our Target Price of S$9.10 is based on sum-of-parts valuation:

O&M segment is valued at 2.4x P/BV,
infrastructure at 15x PE on FY18F earnings,

SGinvestors.io.

property segment at 25% discount to RNAV,
investment (Keppel Capital) at 15x FY18F earnings, and
market values/estimated fair values are used for listed subsidiaries.

Our Target Price implies 1.3x FY18 P/BV.

Key Risks to Our View
O&M segment could fare worse than expected. We forecast annual revenues from Keppel O&M to fall to the ~S$2-4bn level in FY18- 19, from S$7-8bn during FY12-14.
If contract flows do not come through as expected, continued depletion of its orderbook could pose downside risks to our forecast.
WHAT'S NEW
Re-introduction of Singapore property measures
Property curbs reinstated. On 5 July, the Singapore authorities announced further property curbs by raising Additional Buyer's Stamp Duty (ABSD) rates by 5ppts and tightening Loan-to-Value (LTV) limits by 5ppts.

The aim of these measures is to curb excessive property price increases, which came as a surprise to us. The measures were to be effective from 6 July.
Sales momentum to turn cold.
Our property analyst estimates that the combined impact of these measures raises the cost of ownership on an assumed S$1.5m property purchase by S$75,000 (first-time buyer) and S$150,000 (investor). With the increased upfront capital commitment, we expect demand from investors and foreigners to cool in the immediate term.

SGinvestors.io.

In terms of sales momentum, we expect total volumes to fall to 9,000-10,000 units in 2018, and potentially even further if these curbs remain.
Limited impact on Keppel.
Keppel's Singapore residential book has been substantially sold. Its only has two launched residential projects in Singapore - Reflections and Corals at Keppel Bay, with c.20% of units remaining for sale. Keppel hasn't been actively bidding for land in Singapore. The only addition in recent years to Singapore landbank was the Serangoon North Ave 1 (60% stake) with 463k GFA acquired in mid-2017.
Singapore residential exposure forms only ~9% of RNAV.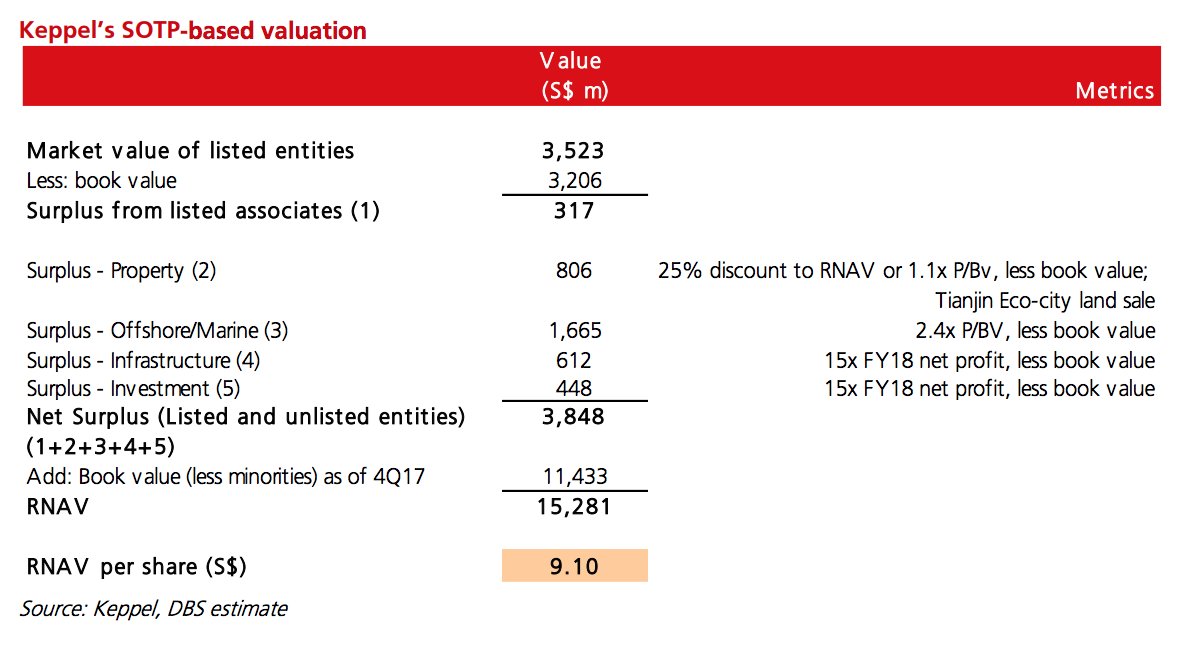 Pei Hwa HO
DBS Group Research Research
|
https://www.dbsvickers.com/
2018-07-09
SGX Stock
Analyst Report
9.10
Down
10.200